Guide To Your Office Visit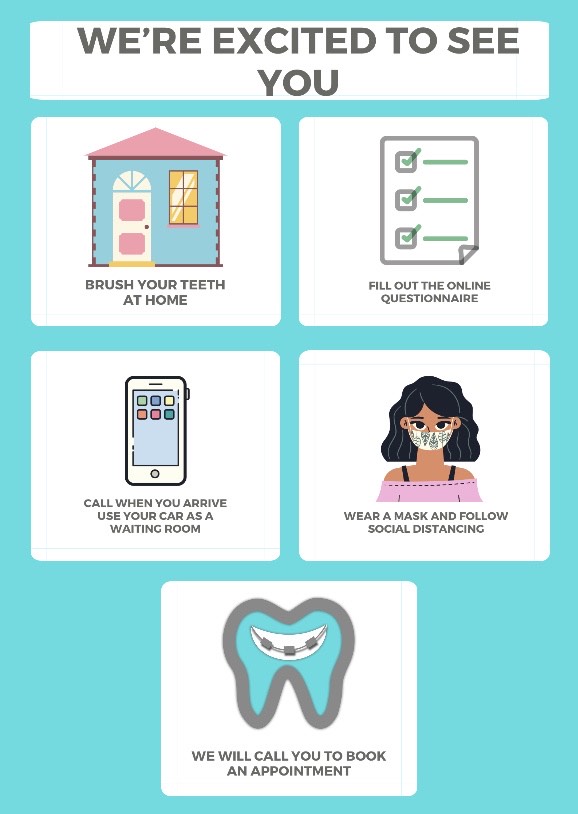 A GUIDE TO YOUR OFFICE VISIT AT EMBRACE ORTHODONTICS that we request is followed at EACH APPOINTMENT.
Please brush and floss your teeth thoroughly at home BEFORE your appointment. Our brushing station is temporarily closed.
Please fill out the Wellness Screening Form PRIOR TO YOUR APPOINTMENT and the DAY OF THE APPOINTMENT.
If you are unwell, we will be happy to reschedule your appointment.
Please bring a non-medical mask with you to wear before and after.
Let us know when you arrive by calling or texting the office, do not come into the office. 902-81-SMILE
Only the patient may come inside the office: our reception area is closed.
When you come in, you will have a forehead temperature check and will be asked to disinfect your hands.
We may look a bit different when we see you. All our team members are wearing personal protective equipment according to the type of appointment.
To update the parents on the appointment, we are offering video conferencing (FaceTime, Instagram video) during the appointment. If you would like that, please have your child bring in their cell phone.
CAN'T WAIT TO SEE YOUR SMILES!